The fabulous folks at The Savory Pantry have a yummy dish for summer. I love shrimp and am always looking for new ways to make them, tasty, yet healthy. This dish is sure to please I would say, I love the flavors of coconut and curry together.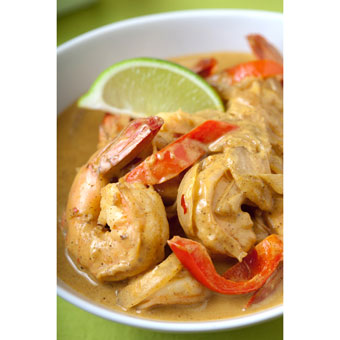 Ingredients:
1 onion
1 red or green pepper, sliced
1/2 tsp. dried crushed red chilies (optional)
1 1/2 lb. large shrimp, shelled and deveined
1 fresh tomato, diced (optional)
3/4 cup Dulcet Mild Indian Curry Sauce
1 cup unsweetened coconut milk
fresh lime wedges
To Prepare:


Add 1 T of the olive oil to a skillet over medium high heat.


Add onion and pepper; sauté for 4 minutes.


Push the veggies to one side of the skillet and add the second tablespoon of oil to free space in pan. Add shrimp and chilies if using; cook until the shrimp just turns light pink on the bottom side (about 1 to 2 minutes). Turn shrimp and cook another minute or two until it is just cooked through.


Stir the veggies and shrimp together.


Reduce the heat to medium, add the curry sauce, coconut milk and tomatoes, if using, and cook until heated through and the sauce thickens.


Serve over basmati rice. Garnish with lime wedges.
Disclosure: This is a sponsored post. The company who sponsored this post has provided compensation to me for this article. Regardless, I only recommend products and/or services that I have personally used or feel will be good for my readers
Serves 4.
Be sure to sign up for their email list on their website page
Stay informed!
Join our e-newsletter list to be notified of exclusive offers, new products, recipes and upcoming in-store events in The Savory Pantry!