Blueberry Sour Cream Coffee Cake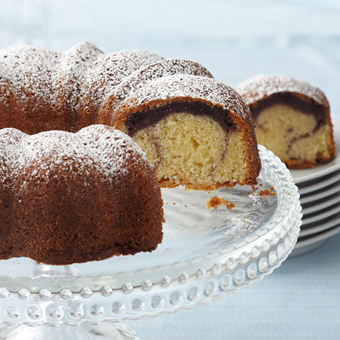 Ingredients:
1 Tablespoon baking powder
1/4 teaspoon salt
2 cups granulated sugar
2 sticks (1 cup) unsalted butter, softened
2 eggs, beaten lightly
1 cup sour cream
1 Tablespoon vanilla extract
1 jar Wild Maine Blueberry Jam, stirred well
To Prepare:


Pre-heat oven to 350 degrees.


Butter a 10" bundt pan and lightly dust the inside with flour.


Sift together and set aside the flour, baking powder and salt.


In a mixer, or by hand, cream sugar and butter until light and fluffy.


Add eggs, blending well, and then add sour cream and vanilla. Mix until combined.


Gradually fold in flour, baking powder, and salt into creamed mixture until just blended.


Reserve 1/2 cup of batter and mix with 3/4 of the jar of blueberry jam.


Pour 3/4 remaining batter into the prepared pan, smoothing to the edges and creating a slight "trough" with a spatula.


Gently spoon the blueberry mix into the batter "trough", being careful not to touch the side of the pan.


Spread the remaining batter over the jam and smooth the top.


Set pan on middle rack in the oven and bake for about 60 minutes, or until the sides of the cake pull away from the pan and a cake tester (or toothpick) inserted in the center comes out clean.


Cool on a wire rack for at least 30 minutes. Turn onto a plate, sprinkle with confectioners sugar, drizzle with remaining jam and enjoy!
Disclosure:This is a sponsored post by The Savory Pantry. The company who sponsored this post has provided compensation to me for this article. Regardless, I only recommend products and/or services that I have personally used, or feel will be a good fit for my readers.